In the edit trial balance window you can edit the sums of the accounts,
but not their codes and names. You can edit existing records, but cannot
add new ones. To enter into edit mode, click the


Edit
record button.
There are two different view modes, depending on the selected trial
balance representation format. If you have selected to work with
one-column trial balance, the Closing balance column will be divided
into Debit and Credit. In case you are working with six-column
trial balance, the columns will be: Opening balance, Turnover,
and Closing balance, each divided into Debit and Credit.
To open the active window, do the following:
Open the Statements tab and click the Trial balance button.

Click Edit.

From the drop-down menu select the trial balance type that you want
to edit (Initial, Control, Previous).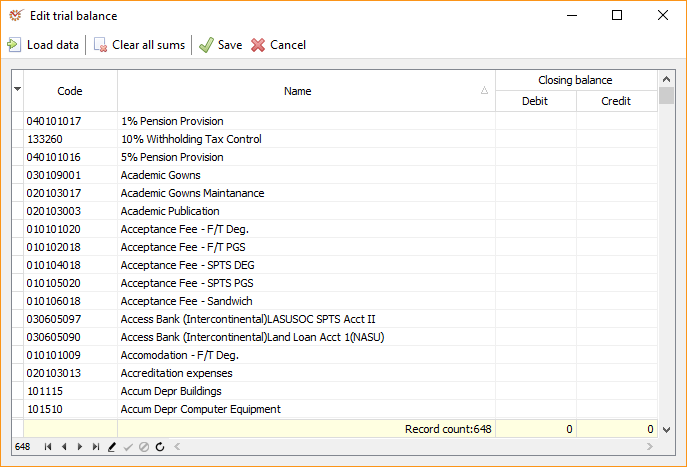 The buttons give access to these additional actions:
Load data - opens the
window for data
import.
Note that when setting up the specifications, you must define the
Key field and set the import mode to Update.
Clear all sums - clears
all sums in the trial balance accounts
Note
When importing data in the one-column trial balance format, if there is
only one Closing balance, you must put it in the Debit
sub-column.
Once you are done, click
Save to save your changes.