To access TeamViewer, open the link
https://get.teamviewer.com/auditdesktopsupport and select Save
File.
Note
The language of the module depends on the language of the browser that
you are using to download it. You can change the language if necessary.
Depending on the settings of your operating system, the program may
ask you whether you want to run the module as an administrator. If you
need software administration support and you have already contacted our
maintenance specialist, click Yes.
In case you click No, you can contact our maintenance specialist and
relaunch the module.
In the confirmation window, select Allow.

The session code and your name are automatically displayed. Our
maintenance specialist will join the session as soon as possible.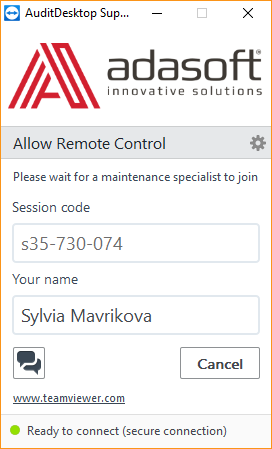 The dialogue window enables you to make a video call, use voice and
text chat. It also has additional features which you can see in greater
detail at the application
website.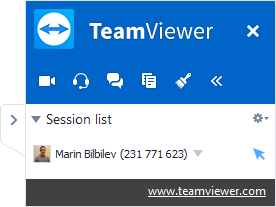 To end the current remote control session, click the X button.
You can access the program's InstantSupport module in one of the
following ways:
Before program login - access the module before you click the
Login button on the login screen. Launch the program and before
you enter your username and password, click
Remote support.
After program login - access the module after logging in the
system. Open the Application menu and click
****Remote support.
From our website - you can download the InstantSupport module
from our website: https://www.auditdesktop.com/support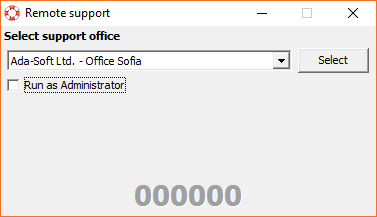 Select the support office from the drop-down menu.

Click Select.

Our office contacts and the session code will be displayed. Contact
us in your preferred manner and give the session code to the maintenance
specialist.

You will be informed whether you need to mark the Run as
Administrator option.