AuditDesktop enables you to complete engagements, once you have finished
working on them. In this way, all working papers can
be locked so as to prevent others from making changes to them.
Only the engagement's Team leader has rights to complete an audit engagement.
To complete an engagement:
Open the Home tab and click the All
button.

From the list of engagements, select the engagement and click
Complete.

In the window that opens, mark which subsequent actions will be
performed.

Once you are ready,
click Complete.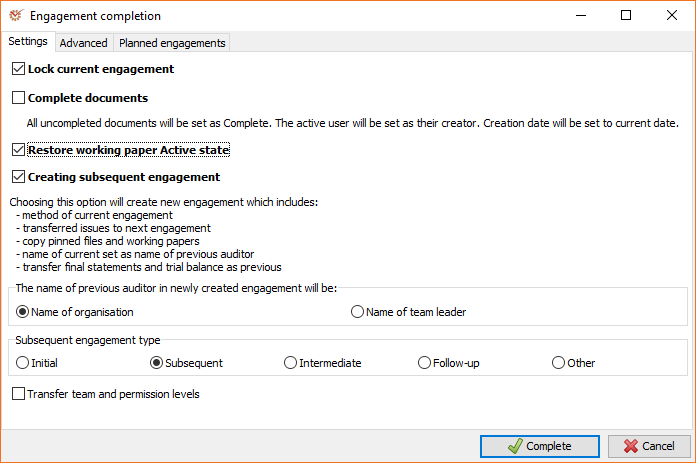 Lock current engagement – the engagement will be locked and
document editing will not be allowed. By default, completed
engagements are not visible in the Select
engagement window. To visualise
them, click the
Completed
button located in the toolbar at the bottom of the window.
Complete documents – all uncompleted documents will be marked as
Complete. The date of completion will be recorded in the
Creation date field of all documents set up as templates. The
Team leader will be displayed as the user who completed the
documents. Creation date will be set to current date; if you are
using the network version,
the date will be the server's. Document completion is not mandatory
in order to mark an engagement as complete.
Restore working paper Active state – you can restore the
Active status of working papers in subsequent engagement.
**Creating subsequent engagement **– a new engagement will be
created with the following conditions:

Copied method of current engagement
Transferred issues from previous engagement to next one
Transferred all documents and attached files marked as Copy
for next engagement
Set the previous auditor's name as the name of current one (the
name selected can be either the name of the organisation or the
name of the Team leader)
Subsequent engagement type: Initial, Subsequent,
Intermediate, Follow-up, or Other
Transfer the team and their permission levels to the newly
created engagement
Transfer final statements and trial balance as previous
If the Transfer team and permission levels option is left unmarked, you will have to select the team members for the newly created engagement and define their permission levels. Otherwise, you will not be able to work on the engagement.
When loading Previous trial balance in Initial engagement, you can use
Control TB or Final TB, depending on the accounting
settings of the engagement.
Here you can select the data that will be transferred when creating a
subsequent engagement. If you mark an option, its data will be
transferred, whereas if you unmark it, the data will be skipped.
To save time, you can use these two buttons:
All – mark all options
None – unmark all options
| | |
| --- | --- |
| Attached files | Copies all files attached to working papers, questions, or sections, which are marked as ''For next engagement''. |
| Adjustments | All adjustments and their entries. |
| Chart of accounts | Entered chart of accounts. It affects both the trial balance and the errors in accounts. |
| Parameters: Materiality | Determined engagement materiality. |
| Documents: Findings and recommendations | Findings and recommendations entered in the working papers. |
| Documents: Conclusions | Conclusions entered in the working papers. |
| Documents: Questions | Entered questions for the client, team, from a previous or subsequent engagement. |
| Documents: Other information | Entered other information (comments, applied procedures, etc.). |
| Documents: Lead schedule data | Data entered in the lead schedule when using spreadsheet |
| Checklist: Answers and notes | Answers and attached notes in checklists. |
| Plan: Tasks | Tasks associated with an engagement. |
| Statements: Transaction log | Transaction log and its samples (depends on the Samples option). |
| Statements: VAT logs | Purchase and Sale logs, Documents, as well as samples (depends on the Samples option). |
| Statements: Trial balance | Entered trial balances. |
| Statements: Statement of financial position | Entered statement of financial position (initial and final). |
| Statements: Income statement | Entered income statement (initial and final). |
| Statements: Samples | Statement samples. |
| Risks: Statement analysis | Selected material items. |
| Risks: Risk register | Identified risks. |
| Risks: Control activities | Entered control activities. |
AuditDesktop can complete an engagement selected by the user, by
transferring all data into an already planned engagement (See Create an
Audit Engagement). All settings in the Settings tab apply to
Planned engagements as well.
Once you mark the Use planned engagement as subsequent option, a
list of all planned engagements created for the specific client will be
displayed.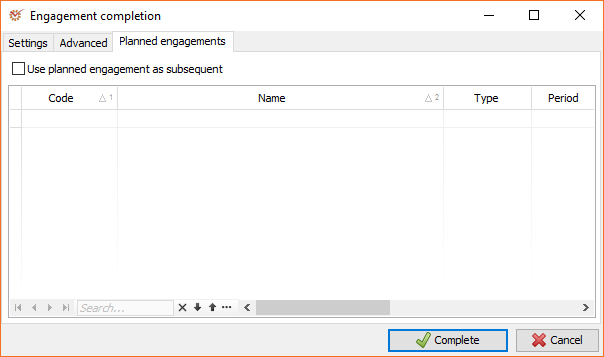 The Planned engagements window displays only the planned engagements created for a specific client. Planned engagements created for other clients will not be displayed.